Restore your balance and energy through integrative holistic healthcare.
Come make this your Healing House!
What would it take… for you to feel your very best? The answer to that question is our life's work and deepest vocation. We strive to offer the best in holistic healthcare, and to treat all who enter The Healing House with the level of care we would offer our own families.
The Healing House of Alachua is a collective of holistic health professionals, whose individual practices unite in providing first-class, natural healthcare for our families, friends, and far-reaching community.
Whether you find yourself facing chronic health concerns, or simply seeking to improve your general wellbeing, we're here to offer you a progressive approach to health and healing, in a safe and loving environment.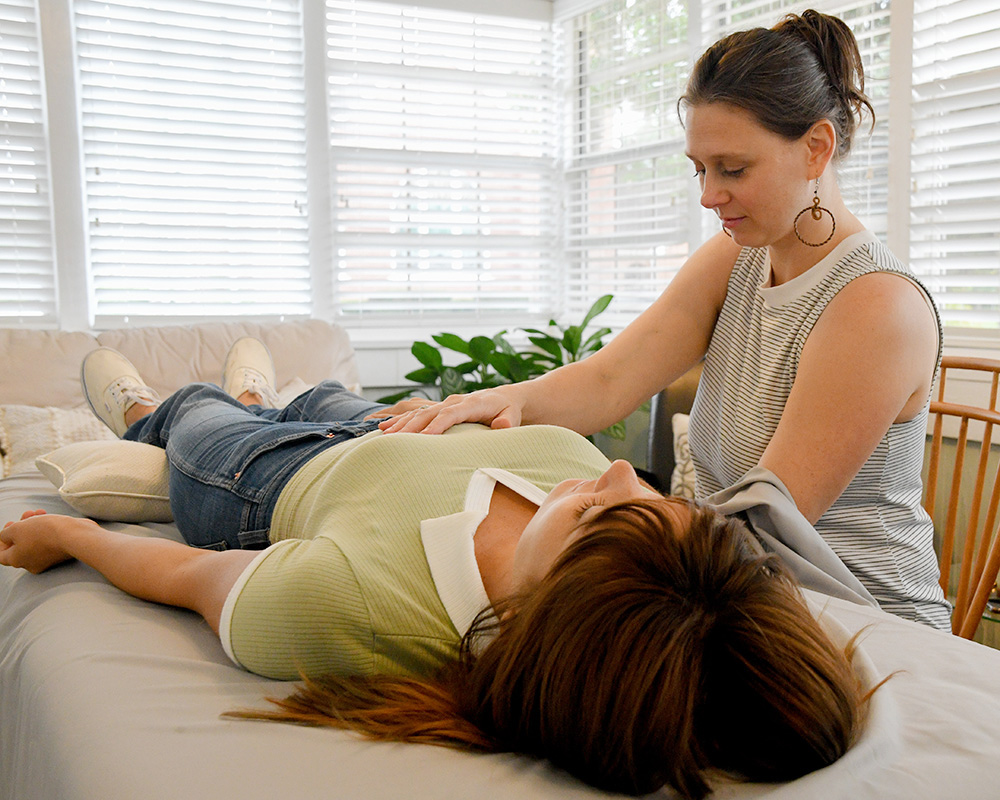 Transform your health with time-tested treatments
"
Compassionate and Professional
Julia has been my acupuncturist for the last few years and she is a very caring, compassionate and professional. She goes above and beyond in every way, and I'm very pleased with my treatments. I highly recommend her.
- Loretta
"
An Absolute Gem
Griff is an incredible massage therapist! Very healing, informative, kind, and invested in his work. All around, he is an absolute gem. I am grateful to have found his massage therapy practice.
- KR
"
Rare and Divine
A massage with Savanah is like going into our ancestral past and receiving a special kind of reverence that is rare and divine. Savanah has a great knowledge of many modalities, and dives deep into her knowledge with so much care.
-Ariela
"
I felt so loved and cared for
Savanah gave me one of the most heartfelt, nourishing massages I've ever had. I felt so loved and cared for. After the massage, my body was buzzing, my skin was glowing, and my mind felt calm and centered.
- Ali
"
Massage Therapy with Kim
Kim is a very talented, thoughtful and compassionate person. She's been a wonderful blessing to me and my active family through her massage therapy.
-Joanna
"
Meditative Healing Experience
Julia's warm, calm demeanor inspires confidence, and her enthusiasm for what she does makes you know she will always seek the best possible practice, be it a new or an established technique. She constantly expands her knowledge not only of acupuncture but also of herbal remedies. Best of all, each time she uses the needles I go into meditation, the signal for me that acupuncture is working well.
- Kristin
"
110% Recommended
I've know Ashley for the past few years now and she is amazing. She is such a kind & warm-hearted person who ultimately wants to help people. She has helped me cope with my anxiety & depression issues & I have seen so much improvement! I 110% recommend seeing her.
E. Desalvo
"
Allergy Free Since Seeing Julia
I no longer have to take allergy medicine since I started being treated by Julia!! Acupuncture has helped me in many ways, but to be allergy free during these beautiful Florida days has been truly remarkable!
-Clint
"
Great acupuncture experience for myself and my children!
Great acupuncture experience for myself and my children! My daughter has a rare medical condition that we have not been able to treat; she has been receiving acupuncture for nearly six months now and the results have been incredible! Ashely and the staff amazing!
K. Aslan
"
The Healing House is just as the name implies.
The Healing House is just as the name implies. The combination of friendly staff, beautiful serene rooms, and the treatments will "heal" you. The owner, Ashley, is kind, friendly, accommodating, and professional. I would not hesitate to recommend this place to everyone I know.
Lila G.
"
My wife and I love this place.
My wife and I love this place. It's beautiful. Very welcoming.
Savanah was awesome! I really didn't know the names of the muscle groupings and she didn't make feel uncomfortable correcting me. Wife and I both felt much better having sat in a plane and getting nice massages and Savanah made us feel rejuvenated.
A. Reich
"
Overall I just felt better
Ashley is amazing. I went to see her for to help with the pain and inflammation from psoriatic arthritis but she helped me with so much more. My stress levels decreased, my headaches were managed, and overall I just felt better. And to think I was scared of the needles before going. It didn't even hurt!
A. Green
"
Acupuncture transformed me
After my first treatment, I had felt more peace from my grief and less physical pain than I had felt in years. I was quickly transformed into a believer. After regularly attending weekly treatments for several months, acupuncture transformed me into a functional person once again. My migraines lessened in intensity and frequency within that first four or five sessions. I now average about one far less severe migraine a month. As for my depression, I drew out of it, finally being able to face my grief instead of being stuck in it.
S. Green
"
The best decision I ever made
A little over a year ago I had to go to the ER, I was having a hard time breathing, my mind raced with thoughts that never made since…I could go on and on. I was told to go see Ashley Upham. I had been told she was finishing up her schooling and was starting to see people and that I should see what she could do for me. The Very Best decision I have ever made.
D. Blake
"
Her expertise and empathetic caring nature were so beneficial
When my wife was in an automobile accident in January Ashley chose some essential oils for Donna to use during the healing process. They work very well in calming Donna and even on the site of her broken wrist. Her expertise and empathetic caring nature were so beneficial I am so happy to see she is sharing her knowledge with us.
R. Parker
Stay updated on news, events, and more